MPH Metrics
As part of its internal continuous quality assurance and performance monitoring processes and in response to reporting requirements to our accreditor, the Council on Education for Public Health (CEPH), the UNC Charlotte MPH Program regularly monitors a number of program metrics.
Listed below are several measures that might be useful to students considering our program, along with any context needed to interpret this information within the UNC Charlotte environment.
Mph Admission Metrics
Averages
On average, we receive 160 applications annually.
In 2022, in spring and fall, approximately 74% of all applicants were admitted.
The average undergraduate GPA of our 2022 admits was 3.3/4.0.
Competitive applicants to the program typically:

have an undergraduate GPA above 3.2/4.0,
are responsive to the requirements of the personal statement and
have strong letters of recommendation.
Holistic Review
These averages aside, the MPH Admissions Committee employs a holistic review of all applications, where strength in one area might offset weakness in another. The review process places emphasis on the applicant's statement of purpose to convince the committee that:

the applicant is a good fit for the program given the applicant's background and future goals.
the applicant can be academically successful in the program
SP22/FA22 Admitted Students: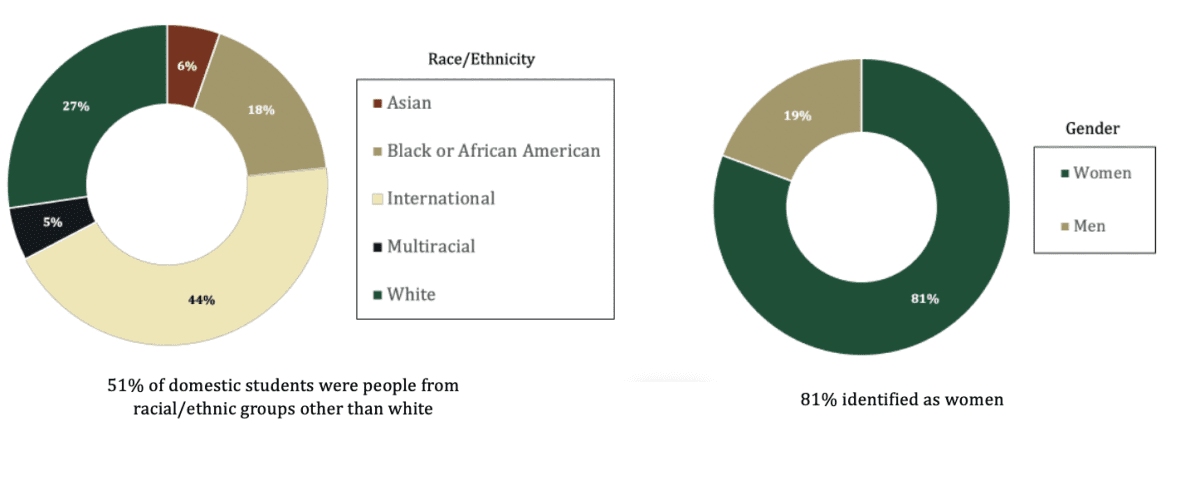 MPH program metrics
The students who choose our program are a relatively diverse group of individuals. Our current student demographics may be helpful as you decide whether or not our program is right for you.
Of the FA22 students (n=93):
87.4% identify as women
44.2% are people from racial/ethnic groups other than white
11.6% are international students
78.9% are residents of North Carolina
MPH Concentration distribution:

30% are focusing on Community Health Practice (CHPR)
52% are focusing on Epidemiology (EPID)
12% are focusing on Physical Activity & Nutrition (PANU)
6% are focusing on Population Health Analytics (PHAN)
Of the 2021-22 graduating class (n=34):
88% identified as women
32% were people from racial/ethnic groups other than white
92% completed the MPH degree in the time expected for their specific program/plan of study
88% of graduates are employed
Of the 2019-20 graduates (n =25):
96% reported employment in the field or continued training within 1 year of graduation. Of the 20 graduates reporting employment:

29.4% are employed at academic institutions
17.7% are employed at for-profit entities
15.8% are employed at non-profit entities
15.4% are employed in healthcare settings
10.3% are employed at a government agency

12% are engaged in further study or a fellowship
Reported a mean starting salary of $71,441 (n=5; NOTE: Only a small number of respondents (5) reported salaries as part of this year's survey, likely understating the true median value.)

Range: $40,000 to $93,150