Fall 2024 BSPH Application
Thank you for your interest in
the BSPH program!

Application Information:
Please read through to familiarize and prepare yourself to submit a completed application. The information provided here outlines the requirements for the application.
Admission into the Public Health Major occurs only for Fall semesters and the number of students admitted each year is limited. Application for admission must be submitted the Spring semester prior to eligibility to begin the Public Health Major in the Fall semester.
This application is for entrance into the Public Health Major for Fall 2024. Applicants will receive notification in writing of an admission decision no later than April 2024. Applicants who are not accepted may reapply in the future (the next application period will occur in Spring 2025).
NOTE: Admission into the Public Health Major is highly competitive and not all applicants who meet the minimum qualifications will be admitted.
​
To apply, you must complete the online application. All students wishing to apply to the Upper Division of the BSPH program must complete and submit an electronic application, including supporting documentation. Only completed applications will be accepted. Please be sure to gather ALL of your materials PRIOR to beginning the application so you can use them to fill out and submit the application.
Here is what you'll need for a complete application:
The electronic application
Unofficial transcript from UNC Charlotte (PDF file)
Copy of your DegreeWorks showingf Pre-Public Health Major (PDF file)
Completed Statement of Interest (PDF file)
Any additional information about any prior health-related experiences (internships, volunteer, work, etc.)
Please note, applications that are incomplete will not be reviewed.
If you have any coursework completed outside of the United States, it must be translated to UNC Charlotte equivalencies by the Office of International Admissions (for additional information please visit https;//admissions.charlotte.edu/international). International coursework must be approved by the Office of International Admissions no later than March 1 of each year.
This completed application must be submitted no later than 11:59pm on January 31, 2024
You must meet the minimum qualifications for entry into the Public Health Major which include the following:
At least 60 credit hours completed before starting the Public Health Major in the Fall semester; preferably by the end of Spring semester.
Completion of the following courses listed in the PRPH program (whether or not you ever declared the PRPH major):

HLTH 2101
HLTH 2102
HLTH 2103
BIOL 1110 or BIOL 1115
STAT 1222
General Education Quantitative Courses (6 hours), Science Courses (7 hours), and Social Science Courses (3 hours).
A minimum cumulative GPA of 2.5.
It is strongly suggested that LBST and Pre-PH Health-related Communication requirements are completed prior to admission to the BSPH program however it is not required.
You are encouraged to ask questions about any missing requirements PRIOR to applying.
All applicants are required to submit a copy of their unofficial UNC Charlotte transcript, as well as a copy of their DegreeWorks showing a major in Pre-Public Health.
UNC Charlotte Unofficial Transcript
Transcript must be submitted as a PDF file.
Please use the following template for the file name for your UNC Charlotte transcript:
Last Name_First Name_UNCC (Example: Zuber_Pilar_UNCC)
DegreeWorks
If you are not a Pre-Public Health major, please use the "What-if" function to run a worksheet for the Pre-Public Health major.
For more information about accessing your DegreeWorks, please vist here. To save your DegreeWorks record as a PDF file, select Save As/Print PDF button near the top left corner.
Please use the following template for the file name for your DegreeWorks record:
Last Name_First Name_DW (Example: Zuber_Pilar_DW)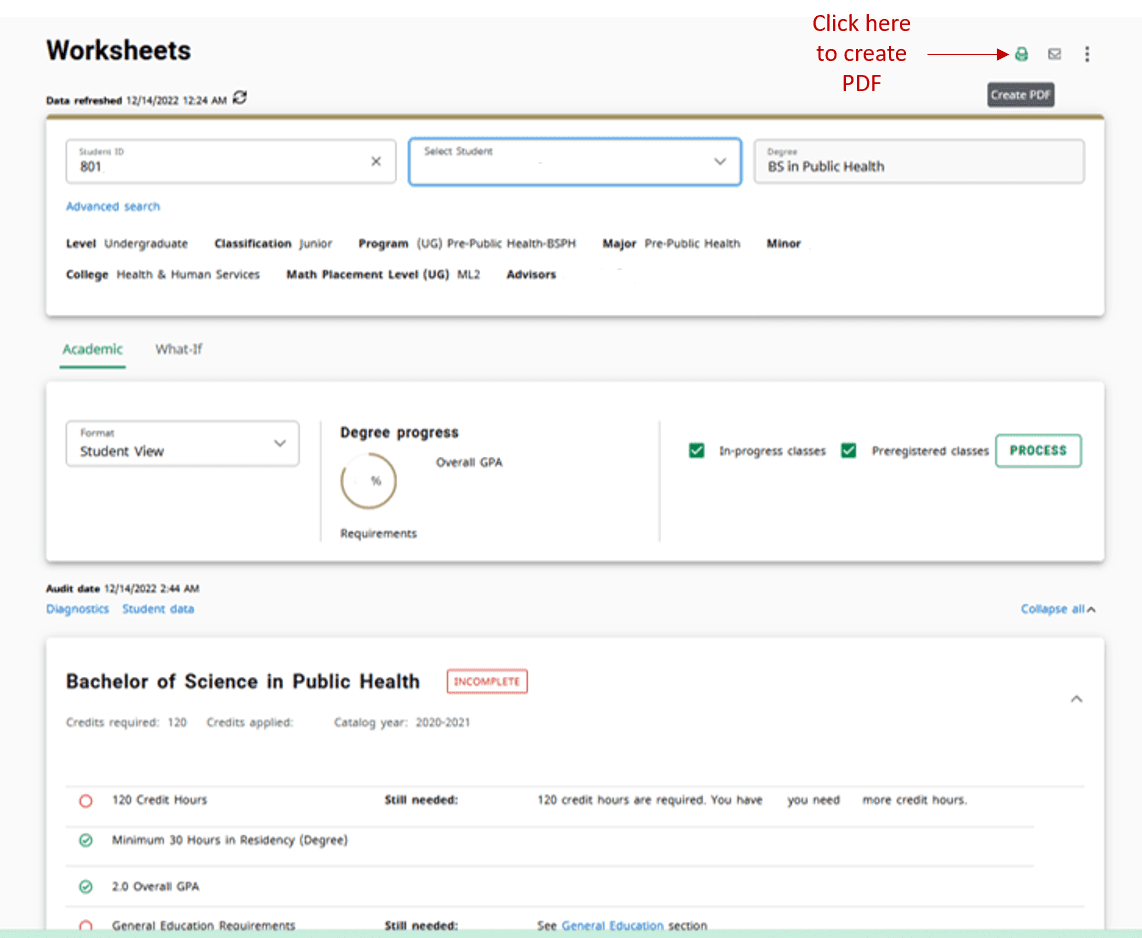 All applicants are required to submit a Statement of Interest addressing the following questions. The statement allows the application reviewers to get a more holistic view of our applicants and their public health aptitude than just what can be seen from academic performance. Written communication is key, so please be sure to proofread and revise your statements as needed.
Applicant responses are limited to 250 words for each numbered question below.
What are your future career goals? Discuss how a degree in public health will help you accomplish your future career goals.
Identify a current public health issue. Discuss, based on your current understanding of public health, why it is a public health issue.
What are your academic strengths and weaknesses in terms of subject area/grades/GPA? Discuss how will your strengths will help you in the BSPH Major, as well as how you plan to overcome or resolve your weaknesses. If you elected to use Pass/No Credit option for any required Pre-PH courses. please be sure to address why.
Optional: Please describe any health-related internships, volunteer work community service, or paid work experiences you would like the admissions committee to know about (limit 250 words).
Your Statement of Interest in the following format:
File type: .doc, or .docx, or .pdf file ending
Your name at the top of the page
250 words per numbered question
Typed (handwritten statements will not be accepted)
Double space the lines
1-inch margins on all sides
12-point Times New Roman font or 11-point Arial font
Your Statement of Interest must be submitted with your completed application.
Please use the following template for the file name for your Statement of Interest:
Last Name_First Name_SOI (Example: Zuber_Pilar_SOI)