Grant Funds New Active Learning Classroom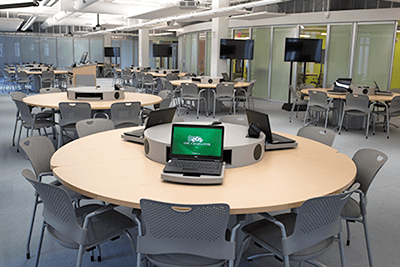 A recent $67,000 grant from Steelcase Education's Active Learning Center will help UNC Charlotte further advance its goals to increase active learning instruction on campus. The grant will fund a new active learning classroom in the College of Health and Human Services.
Active learning is an instruction approach that encourages student engagement, collaboration and creativity in the classroom through hands-on activities and labs. The Kennedy Building has two active learning classrooms, which were created during a renovation project starting in 2013. Courses taught in the active learning rooms focus on hands-on learning; student teams often engage in collaborative projects that promote problem solving.
Provost Joan Lorden supported the application for this grant and brought the most recent Steelcase opportunity to the attention of the grant writing team. Senior Associate Provost Jay Raja is the driving force behind the University's active learning initiative, with the goal to continue to add active learning classrooms.
"UNC Charlotte was chosen because of a demonstrated commitment to active learning," said Craig Wilson, Steelcase Education director of market development. "Research shows that space impacts behavior, and these classrooms will help a new group of professors and students explore the learning possibilities an interactive space can bring."
The University's grant-writing team of Pilar Zuber, Public Health Sciences Department; Jules Keith-Le and Heather McCullough, Center for Teaching and Learning; Rich Preville, AISLE; and Mike Moore, College of Health and Human Services; excelled in its efforts to obtain the grant. According to the grant evaluators, they "knocked it out of the park on every metric."
The grant-funded Steelcase Education learning environment is slated for installation during the summer in order for use starting with the fall 2019 semester.
In addition to the new classroom, Zuber and Keith-Le, co-principal investigators for the grant, will receive training from Steelcase on how to use the space and will have the opportunity to share insights and best practices with all awarded schools. During the two-year program, Steelcase Education and UNC Charlotte will partner to conduct assessments and research on the impact of this newly designed space.
"We are so excited to be recognized by Steelcase Education for our efforts in promoting personalized, engaged learning with our students," said Keith-Le. "With Steelcase Education's support, we will continue this mission and foster better collaborations between students and faculty in the classroom."
Image: A rendering of a Steelcase active learning environment