Interprofessional Community Workshop Gives MPH Students Chance to Practice Skills for Success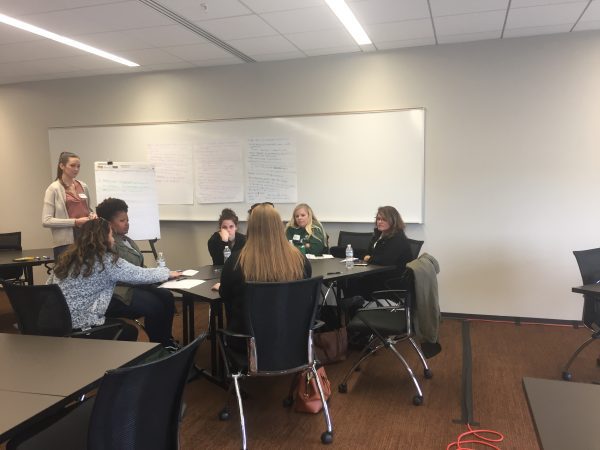 Working with diverse teams is an essential skill for public health professionals. Public health issues are multifaceted and can span several domains including healthcare, housing, education, transportation, and finance. For this reason, public health practitioners must be able to work with professionals from a variety of backgrounds. The Interprofessional Education Collaborative (IPEC) guides curriculum for healthcare professionals including public health practitioners to ensure that students have opportunities to learn and practice interprofessional communication. Guided by IPEC competency domains, an Interprofessional Community Workshop (IPCW) took place on March 16th, 2019, giving second year MPH students experience working in collaborative groups.
Among the attendees were 28 MPH students and 9 community partners from domains such as transportation, faith-based organizations, healthcare, business, aging, technology, literacy, local YMCA, and county environmental services. Students started the day on the Light Rail, interviewing people in various neighborhoods to learn how the new transportation infrastructure has affected their neighborhood. The information gleaned from these interviews was used in an afternoon breakout session with community partners. Students and community partners worked together in groups of 5-7 to recommend ways in which the Department of Public Health Sciences can work with the Charlotte community to improve residents' social mobility, a major problem in Charlotte. One recommendation was to have student involvement with community agencies early on in their degree to better prepare them to work with the community on key issues like social mobility. In response, the Graduate Public Health Association, a student-led organization, increased members' level of service to 5 hours of service to community organizations or events each semester to better help students connect with the community.
The Department of Public Health Sciences is committed to providing opportunities for students across all programs in professional and interprofessional experiences. Ideas and observations from the first IPCW will be used to plan future projects where students can collaborate with other healthcare educators, including medical students, nurses, pharmacy students, and community professionals. Our aim is to create the most meaningful learning experiences possible for students, community partners, and Charlotte.