Master of Public Health
A Master of Public Health (MPH) is a practice-oriented, interdisciplinary professional degree that will prepare you to make a positive impact on the health and wellness of people in your community to people across the globe.
The UNC Charlotte MPH program
The UNC Charlotte Master of Public Health (MPH) program is an in-person program of study that prepares students to apply core principles of evidence-based, public health practice within a variety of professional settings; our graduates are competent members of the public health workforce. The MPH curriculum is based on the collective needs, expectations, and requirements of regional and national public health partners, employers, and accreditation bodies.
Students develop specialized skills in one of three concentrations:
Community Health Practice (CHPR)
Epidemiology (EPID)
Physical Activity & Nutrition (PANU)
Population Health Analytics (PHAN)
NOTE: UNC Charlotte's MPH Program is not STEM-designated.
*The UNC Charlotte MPH Program is no longer accepting applications for the PHAN concentration*
Mission, Vision, and Values
The MPH program has adopted the Department's mission and vision as its own:
Mission: Advancing health equity and well-being in an urbanizing world.
Vision: Healthy communities partnered with responsive population health systems.
In its efforts to develop practitioners who can tackle today's, and tomorrow's, public health issues, the MPH program, and the larger Department of Public Health Sciences, values collaboration, community engagement, diversity, innovation, professionalism, health equity, and social justice.
The program prepares students to provide leadership in a variety of settings, including health-related agencies and organizations, hospitals, local and state public health departments, academic research centers and institutes, corporate disease management and wellness programs, non-profit agencies, and healthcare businesses and industries.
Charlotte and the Urbanizing World
Urbanization is the process of population migration that leads to increased population density in a concentrated geographic area. More than half of the global population and more than 80% of the United States population live in urban areas.
Charlotte is the 8th fastest-growing metro area (out of 384 metro areas) in the United States with a 7% increase in population from 2010 to 2020. By 2050, it is expected that there will be more than 50% population growth in the Charlotte-Concord-Gastonia metro area, a 15-county region that spans parts of North Carolina and South Carolina. Charlotte is part of the urbanizing world.
Public health's role is to prevent disease, promote health, and prolong life among populations. Thus, public health is concerned with the impact of urbanization, felt not only by the city of Charlotte but also by the surrounding region. Urbanization brings technological development and economic growth but it also brings increased pollution, the need for greater infrastructure such as highways and storm drains, higher rates of chronic and infectious disease, affordable housing shortages, and other negative impacts related to social determinants and population health outcomes.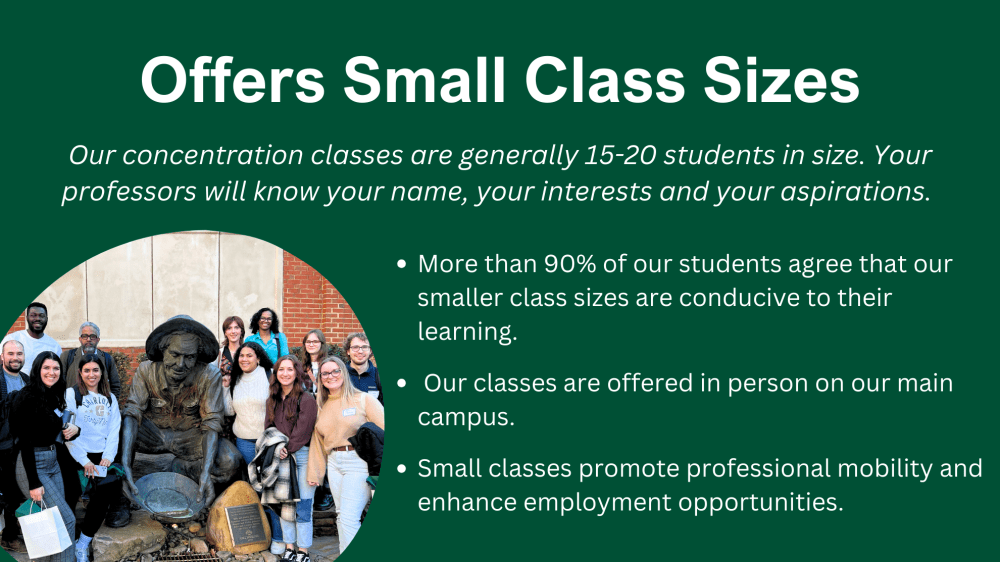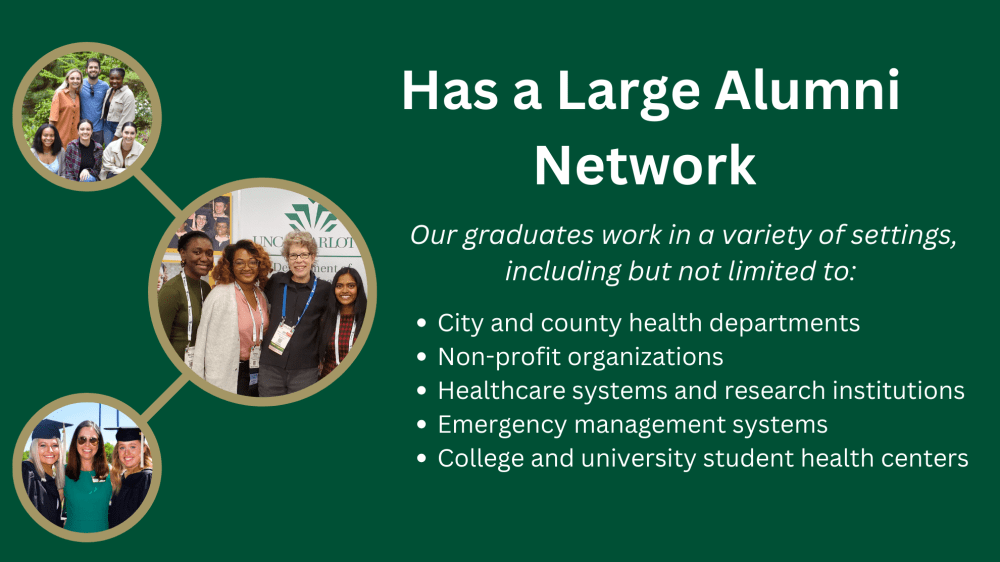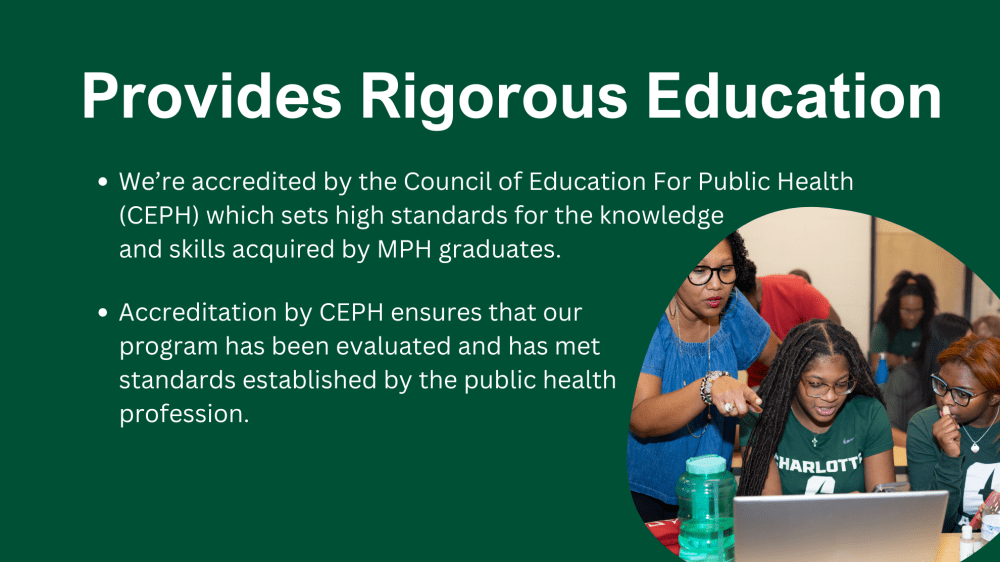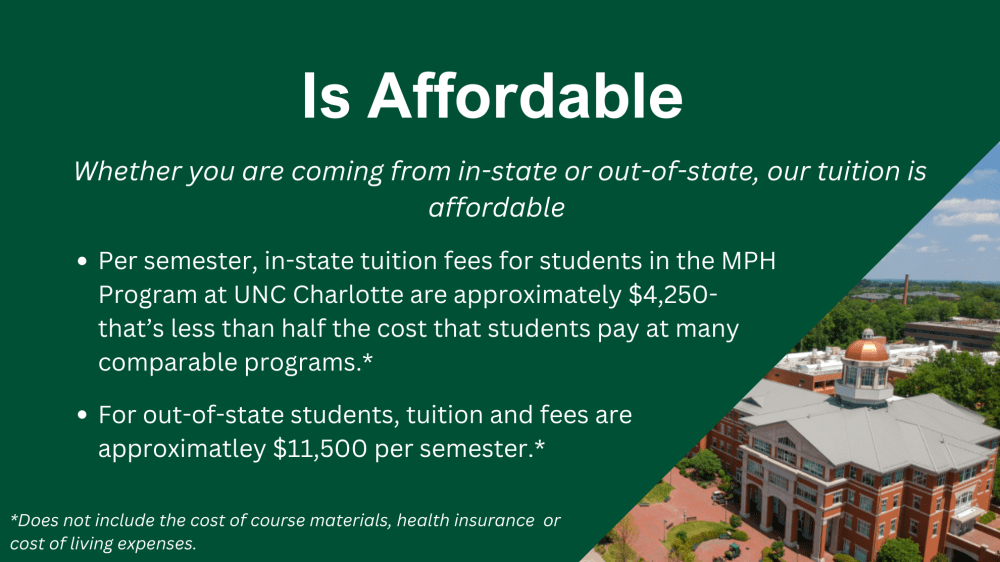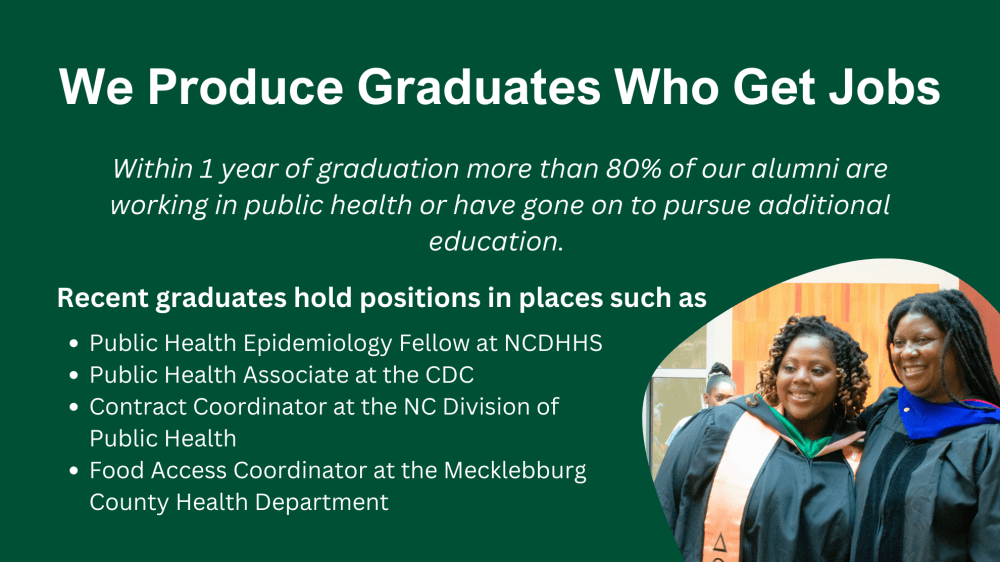 ---
Contact for Additional Information
MPH Program
Department of Public Health Sciences
College of Health and Human Services
The University of North Carolina at Charlotte
9201 University City Boulevard Charlotte, NC 28223-0001
Email: MPHProgram@charlotte.edu
Please use the Request to Visit button in the left navigation bar to schedule a visit in person or via Zoom or click here.